Kettles
Supporting The Salvation Army's Red Kettle Christmas Campaign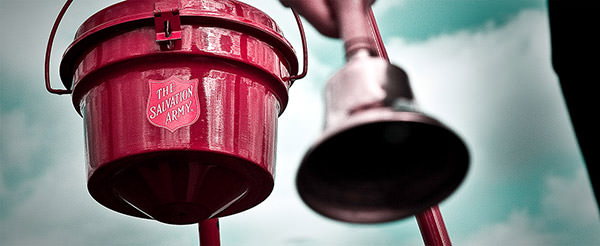 The Salvation Army has grown by giant strides since its modest beginnings more than 135 years ago. It is now the largest non-governmental direct provider of social services in Canada.
Every year The Salvation Army's Ottawa Booth Centre (OBC) brings hope and sustenance to thousands of families. It provided many with emergency disaster services. It provides many more with food, clothing, comfort and practical assistance.
The Red Kettle Christmas Campaign is the organization's most significant annual fundraising initiative. It is more important today than it was in 1882 when Captain Joseph McFee collected donations in a kettle pot. He used those funds to serve Christmas meals to the poor folk of San Francisco.
These days, Kettle proceeds support the OBC's Community and Family Services programs the year round. They also fully fund our Residential Life Skills Program and our children's summer camp activity.
Last year more than 40 Kettle locations were attended by hundreds of Bell Ringers across Ottawa, raising much-needed funds.
Did you know?
All funds raised in Ottawa remain in Ottawa. Kettle funds provide comfort and sustenance to many thousands of people in greater Ottawa.
Our Christmas Kettle venues attract pedestrian interest. They also enable you to give to those in need while doing your holiday shopping.
Do Support Us
Do support our important work by hosting a red Christmas kettle.
If you wish to donate online, click here.
To volunteer with our Kettles program send us an email to volunteerjobs@ottawaboothcentre.org and please attach your resume.
So please place a cash donation into a nearby Kettle during the fund-raising campaign.
The drive runs from late November until Christmas Eve.

* * * * * *
The Salvation Army Ottawa Booth Centre thanks our partners who continue to help make Kettle Season successful.