News
Community Christmas Dinner
2017-12-09
About 600 people turned out on Saturday, December 9, to enjoy a traditional turkey meal at the Salvation Army's annual community Christmas dinner, held at its George St. facility. Numerous volunteers, including teachers from All Saints Catholic High School and Lester B. Pearson Catholic High School, helped serve the meals to the appreciative guests.
Marc Provost, the Executive Director of the Salvation Army's Ottawa Booth Centre, and volunteer John Fraser, the MPP for Ottawa South, joined forces with kitchen staffers Laadi Atio, left; and Carine Cave, right, to place the bountiful quantities of food on trays which the school-teacher volunteers, in turn, served to the seated guests.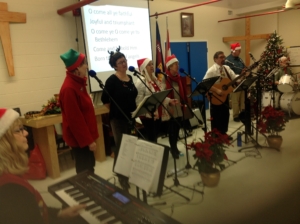 While hundreds of revellers enjoyed their meals, eating in shifts of about 100 guests every hour in the Booth Centre dining doom, other guests took a seat at the OBC chapel and listened to Christmas hymns sung by the eight-member melodic Circle of Blessings musical group. The group was singing O Come, All Ye Faithful, when this photo was snapped.
Marc Provost and Tony Brushett, (the assistant ED of the Ottawa Booth Centre), pause briefly for a photo, before returning to their tasks of serving meals to the many hundred guests who participated in the Salvation Army's annual Christmas function.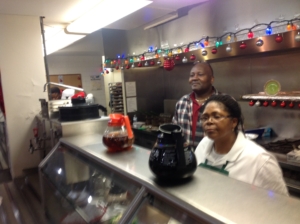 Mr. Chaplain Louis, (left), the Food Services Coordinator at the Salvation Army, and Joan Aikan, a kitchen staff member, prepare to fill coffee and tea cups of another group of guests about to partake in dessert and finish eating their holiday fare. This was Mr. Chaplain's 24th year working at the annual event.

Tony Brushett, the assistant executive director of the OBC, is filling bags with fruits and sweets to give to each of the 600 departing guests.