News
The Kettles Christmas campaign in Ottawa
2017-12-01
When you and tens of thousands of other Ottawa-area residents stop to make a donation at one of our 36 Salvation Army Christmas Kettle locations in Ottawa, you can be certain your donations respond to the most basic and direct needs of thousands of less fortunate Ottawa-area residents.
That's the way it has worked over the past 126 annual Christmas Kettle Campaigns, and the way it will work again this year, with your donations providing:
meals to the hungry (47,791 meals served in 2016)
emergency groceries (to 7,978 people in 2016)
clothing and household goods [vouchers] (to 7,019 people in 2016)
food, water, shelter, clothing and service referrals to emergency personnel and folks displaced from their homes by floods, fire and other forms of emergency and disaster (544 clients were assisted in 2016)
39 children were taken to Adventure Camp in Muskoka for 6 days and 5 nights (all camping and transportation expenses covered)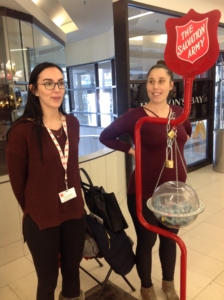 Salvation Army staffers Laurence and Noura attendingthe Kettles location at the
Hudson's Bay Ottawa Rideau outlet.
Last year, The Salvation Army helped over 1.9 million people in Canada. Every donation to a Christmas kettle in Ottawa remains in the community in order to help local people in need.
Kettles funds also go to making and serving meals daily to every man, woman and child who is hungry and who present themselves at the community meal lines at the Salvation Army's Ottawa Booth Centre at 171 George Street. Every day in 2016, we served meals to an average of 130 people.
* * * * * * * *
When disaster strikes, volunteers spring into action giving on-site support to the victims who have lost their homes to fires, floods, emergencies, or other disasters. Emergency personnel are given similar support.
The Kettles-funded service is supported by a mobile comfort vehicle stocked with blankets, bottles of water, footwear, teddy bear, and hygiene products. Volunteers ensure victims and survivors have access to food, water, clothing, medication, personal effects, and shelter.
There are 36 locations in the Ottawa area with the familiar Kettles bubble, staffed by Kettles attendants, smilingly greeting contributors and expressing their thanks and season's greetings to our thousands of donors. We have about 300 Kettle attendants, who have been staffing the locations since this year's campaign kicked off on Nov. 21, says Cassie O'Farrell, the Kettle Campaign Coordinator for the Ottawa Salvation Army.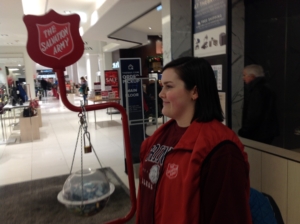 Tara, a Corrections staff member with the Salvation Army's Ottawa Booth Centre, greets Christmas shoppers at the Hudson Bay Ottawa Rideau outlet.

The attendants are the backbone of the campaign, says Ms. O'Farrell, and are the campaign's ambassadors.

They bring commitment and passion to their Kettles work with many telling donors how their funds are being used to feed the hungry, comfort disaster victims and give hope and support to vulnerable people in 400 communities across Canada and in 128 countries around the world.
Each year, The Salvation Army relies on the support of numerous local corporate partners, including Walmart Canada, Loblaw Companies Limited, Costco, LCBO, Cadillac Fairview, Sobeys and many more, who allow Christmas kettles to be placed at their stores.

The Salvation Army gives hope and support to vulnerable people in 400 communities across Canada and in 128 countries around the world.