News
Community Christmas Dinner at the Ottawa Booth Centre
2018-12-08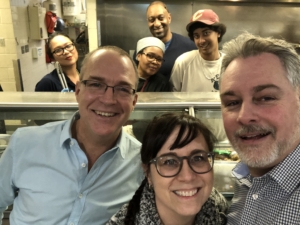 Marc Provost (left), the Ottawa Booth
Centre executive Director, poses in front
of a serving area of the OBC's 2018
Community Dinner with longtime Salvation
Army volunteers Christine and Mark Taylor.
Four enthusiastic volunteers are toling
in the background.


The OBC and numerous volunteers helped
serve a sumptuous turkey dinner to
seven sittings of guests at the OBC's annual
Christmas Dinner, on Saturday (Dec. 8). Diana
Javier, the supervisor of the OBC's community
and family services is in the forefront,
serving plates.
About 40 teachers, sporting Santa toques,
helped served Christmas meals to 567
guests on Saturday.
Numerous volunteers turned out to serve the dinner from the All Saints Catholic School (20), and 20 more from the Lester B. Pearson High School.

Many more volunteers included Theresa Kavanagh, the recently-elected councillor from Bay Ward. Kitchen staff included Laadi Atio, Carine Cave, Jeanot Colas, and Chaplain Louis, who served his 20th OBC dinner.

While guests feasted on a meal of turkey, mashed potatoes, mixed vegetables, stuffing with gravy, cranberry sauce, apple pie and ice cream; groups performed in the chapel of the Booth Centre, such as the Circle of Blessings, below:

Circle of Blessings: Has faithfully provided monthly ministry support at the Ottawa Booth Centre. On Saturday night they provided their harmonious musical offerings.
Earlier in the day, youth and Salvation Army clients gathered in the OBC chapel
Youth pastor Jeff Choi, of the Ottawa Korean Community Church offered a devotion to a gathering of celebrants in the OBC chapel.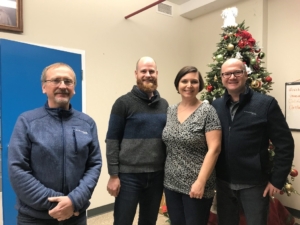 Thanks to For his Cause worship team for their songs, scripture and devotional message, and for their monthly ministry support for evening services.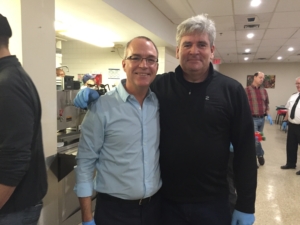 Marc Provost of the Ottawa Booth Centre and John Fraser, the Ottawa South MPP, paused briefly for a photo while serving meals.