Stories
Former Salvation Army rehab client celebrates his sobriety
2018-04-14
He came to thank the Ottawa Booth Centre staff for his recovery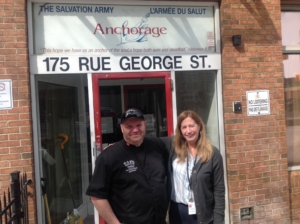 Jay Barnard returned to the scene of his redemption, the Ottawa Booth Centre.
During his 10-year transformation, Jay went from an alcoholic/drug addict/criminal to an executive chef and fish-processing plant owner who has cooked for the likes of Leonardo DiCaprio, Wayne Gretzky, Neil Young, Snoop Dog and William Shatner (of Star Trek fame).
Chef Jay, now 37, feted his visit to the Booth Centre on March 20, 2018 by rolling up his sleeves and preparing a meal of breaded Walleye fingers with coleslaw and a potato hash. His guests numbered about 20.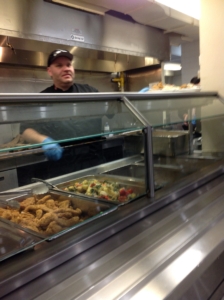 They included the kitchen staff and the Salvation Army's management team. Jay brought the Walleye fish in a cooler by plane from his native Kenora. There he owns the Chef Recovery catering firm and the Freshwater Cuisine fish processing plant.
The company is renowned for its Walleye Wings. He purchases its wild-caught freshwater fish from 73 independent First Nations fishermen in the region.
Buys fresh-water fish from First Nations fishermen
Thinking back to 10 years ago, Jay vividly remembers checking into the Anchorage Addiction Recovery Program on Feb. 11, 2008. His alcohol and drug-addled life was way out of orbit.
There began his 5-1/2 month stint in rehabilitation that he says saved his life, and sent him on a path to a destiny that few people would have predicted possible or anywhere within Jay's reach.
Jay shared his motivational tale of cross-addiction and recovery with about two dozen current clients of the Anchorage program and almost as many Salvation Army staffers.
His journey of hope is composed of considerable misery and a gritty, often-times nightmarish return to sanity and relative stability.
"I never gave up on life," he recalls.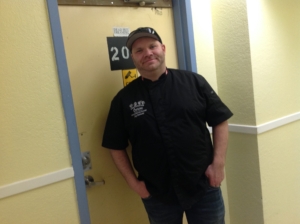 Was a teenage misfit
Jay, who is soft spoken, but occasionally lets out a yelp of joy, recounted how he began drinking before he was even a teenager. He was smoking marijuana heavily at 12. At 14 he was selling marijuana at school.
He was expelled from high school at 18. By then he was hooked on cocaine and crack. From there he took off on a nine-year protracted spree, mostly in Northern Ontario, committing thefts, assaults, motor-vehicle offences and more drug deals.
He also served a number of jail terms including at the Penetanguishene jail in Simcoe County, a place feared for its violence. Jay was more than ready for a change when he was released from that notoriously dreaded jail. But what to do with his rapidly-wasting life, he asked himself?
Regaining control
How could he regain control and get on track? Somehow he found his way to the Kenora community college, where he signed up for a four-month cooking program. Why not? Jay had always enjoyed eating. Food was his first addiction.
It was then that Jay fatefully met a rehab worker who spoke highly to him about the Salvation Army's Anchorage Addiction Recovery program in Ottawa. She urged him to attend, but she also predicted he would not make it.
The words of the Kenora rehab worker worked. They pricked his pride. They got his resolve. They set him off on his voyage to recovery. He recalls that he swung into action shortly after the woman uttered those doubting words to him, as he was completing the cooking program in Kenora. "I moved to Ottawa and checked myself in (at Anchorage), and have been clean since February 11, 2008."
"I remember the date precisely, it was a major event in my life."
Asked about his attitude and his state of mind when he checked into the Booth Centre, he said:

"I really didn't know what to think as it was my first time ever in treatment. But I know I was lost, confused, not sure of it all, didn't know how I would drink or use (more drugs) but I think I also had a spark of hope, because the courts let me come to Ottawa instead of going back to jail."
Came to rehab with a chip on his shoulder
He recalls that he came to Anchorage with a chip on his shoulder, a big one, blaming everyone but himself for the miserable state of his life. But worse, he found himself challenged and confronted by a no-nonsense counsellor who gave short-shrift to his self-pity. It was tough love. Whatever she said to him. It clicked.
"And what worked," said Jay, "was that it was a four-month program and if I wanted to stay longer I could. It gave me the understanding of what recovery is and what I had to do to stay on the journey, along with having the support there (at the Booth Centre) that gave me Faith that I could stay clean and sober, one day at a time."
Seven months later, Jay moved across town to Ottawa's Algonquin College.
He signed up there for the cook's apprenticeship program. From there he toiled in the kitchens of Ottawa's Delta and Westin hotels for several months.
That's when he took on the Chef Recovery moniker, which has become his brand and trademark, and he began giving names to recipes with words of significance to his recovery from drugs and alcohol.

Asked for an example, he said Forever Sobering Walleye Ceviche. [A Ceviche is a Latin American name for a salad made with fish, lime, lemon, onion and chili pepper.]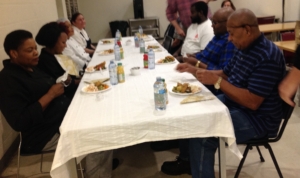 The meal he served at the Booth Centre lunchroom is called the Keep Coming Back Walleye Fingers. After those initial five years of sobriety, with a gathering breeze in his sails, he moved to Alberta's Fort McMurray and took a course in Executive Chef Cuisine.

That's where he met and fed guests like Gretzky and DiCaprio, folks from the moneyed upper echelons of sport and entertainment.
He won awards, he turned his life around
Two years ago, he was finally ready to move back home to Kenora, the cradle of his alcoholism and drug addictions and near demise. Since then his life has taken off. He has become a fast-rising chef, and award-winning fish-processing entrepreneur.

He is now the CEO and corporate chef of Freshwater Cuisine, as well as executive chef and owner of Chef Recovery Catering. Jay has 14 full- and part-time employees. He earned $80,000 in revenue in his first three months of operating Freshwater Cuisine. In that time he also won in 2017 and 2018 :
a Leader in Innovation Award, which was presented to him by Ontario Premier Kathleen Wynne. His was one of five Ontario firms to have won the Food award in 2017. [Jay proudly recalls that Ms. Wynne shook his hand and presented him with his plaque at the award ceremony.]

a Rural Ontario Leaders Award for leaders who have boosted economic development while improving residents quality of life.

a Northwestern Ontario Visionary Award (NOVA) for his business acumen.

a Regional award for being among the province's top 50 firms in Agri-Food Innovation.
Back at the Salvation Army, Jay wrapped up this travelogue at the Booth Centre, telling the clients that he has settled down now and has become a family man.

He and his wife, Julie, have a lovely young daughter, Destiny, 2-1/2 and another fine daughter, Shanyka, 16. Family is dear to Jay. His biological father, a nasty alcoholic, abandoned and disowned him when he was young.
Jay paused for a moment as he delivered his final messages to the rehab clients. The room became silent.
The audience then burst into loud applause for Jay; reminiscent of Johnny Cash's memorable 1968 Folsom Prison Blues performance to an audience of inmates and guards.
"I have a gift," he told the treatment centre clients. "That gift is sharing." He urged the Salvation Army clients to learn to share their stories, their experiences and knowledge with fellow clients struggling with recovery. It keeps them on the straight and narrow.
Rehab clients urged to share their stories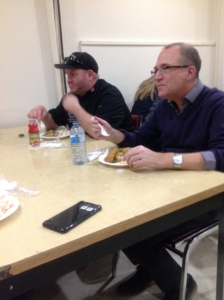 "The Salvation Army helped me become the guy I am today," Jay added, suggesting that they too could put their trust in the organization and its treatment program. As he wrapped up, he invited the clients to contact him whenever they feel the need, by text, email or phone, especially if they are struggling and about to slip off the wagon.
His simple but powerful message was that if he could do it, turn his life around so dramatically, so can they. His phone number is on his web site.
Jay told his audience of rehab clients that he speaks publicly whenever he is invited by groups of non-alcoholics and recovering addicts alike, as often as 20 times a year. It is his way of giving back.
///////////////

By Roderick Macdonell
Administrative Support to Program
Salvation Army
///////////////
ENDS